https://www.challies.com/a-la-carte/a-la-carte-may-12-4
Today's Kindle deals include a whole lot of Agatha Christie's books (if you're in the mood for some mystery) as well as a few Christian titles.
WORLD did some interesting work on TV ratings. "Looking back, TV in the late '90s was relatively tame—although it didn't appear so at the time. The major networks scheduled 27 TV-G series during prime time. Contrast that with 2017, when just one TV-G show—NBC's Little Big Shots—plays on the prime-time schedule. Meanwhile, edgier shows with coarse sexual and violent content have grown exponentially."
Here are three great soundbites that make terrible theology.
It's coming up soon!
Here's a very thought-provoking article: "Ectogenesis would be one of the most important steps in the 'manning' of women. It is important to notice that our culture perceives the 'potential' of women largely in terms of their liberation from their nature, rather than in their flourishing within the inherent directionality and order of that nature."
This is a good bit of imaginative writing.
It takes about 3 seconds to figure out how this little video is going to end. But it's still worth it.
"You can't google our mother and see her accolades. She doesn't speak or write for others. She has no public platform. She doesn't even have a Facebook account. Yet, for our lives and ministries, she has been more influential than any other person."
Alistair Begg lists them.
Once we had tasted that undiluted Word, we realized how delicious it really was. We were ruined to anything less. We still are.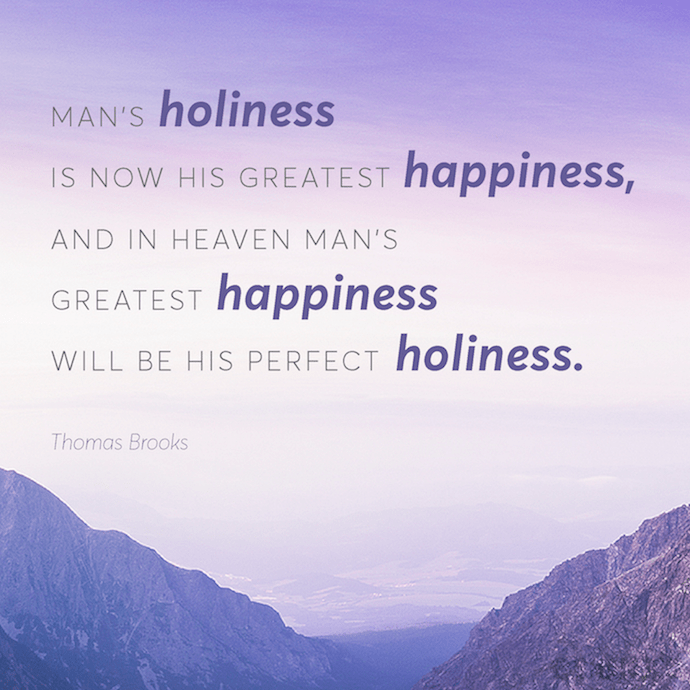 Man's holiness is now his greatest happiness, and in heaven man's greatest happiness will be his perfect holiness. —Thomas Brooks